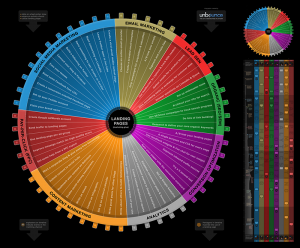 Image Courtesy of unbounce.
At the core, the Wheel of Digital Marketing concentrates on attaining business value via both online and offline customer interactions.
We at NPA, aim to enhance your marketing efforts with our data-driven, outcome-focused strategies.
Our five key strategies are:
Opportunity Definition.

We first understand the primary business challenges and opportunities by establishing concrete, smart objectives derived from current facts and data.

Insight Review.

This entails understanding customer usage and needs across various channels. We perform a comprehensive market analysis, examining competing offerings, marketing activities, and the power of intermediaries.

Planning

After refining the objectives, we develop strategies in alignment with them. The central idea is to devise a strategy at the intersection of brand, customer, and content that's captivating and shareable.

Implementation.

This involves the technical development and project management needed for creating engaging content and platforms, ensuring a shareable experience.

Review and Improve.

Our strategy doesn't stop at implementation. We focus on continuous improvement based on commercial target reviews and channel optimization using analytics and testing.